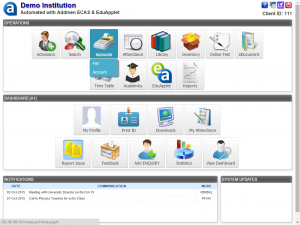 Enhanced Campus Automation System is the complete package of applications that grants you to automate all features of a school organization. It is totally customer adaptable particularly with regards to school fee management module. Every school organization has different fee structures according to the facilities they provide. In the same way, each school has diverse set of policies concerning the accounts section and various operations in fee management. Online school management software like Enhanced Campus Automation Software can help schools to build a structured fee management software. Let's have a look at some special features of ECAS.
Fee Structure and Plan
School fees are subdivided into various sections like admission fee, tuition fee, examination fee, library fee, caution money, enrolment fee, etc. and it differs according to services provided by schools. ECAS has given total freedom to generate your own fee structure and fee plans. Fee plans can be generated in the system which can be manually applied to individual students or in groups. It comprises advance payments like yearly fee or installment plans like monthly or quarterly payments. Fines and rebate amount can be billed if applicable. The fee management software also involuntarily applies Due for late fees when a student fails to make payments on time.
Fee Bill and Receipt
For each payment, fee bill can be created from the system to validate a transaction. Anyone will be able to make their own fee receipt and invoice design by placing the school name and logo, time stamps and digital signatures. Likewise, bills for coupons, individual ledger, annulment, repayment, cheque statement, etc can also be created from the software interface. Multiple copies of fee receipts and invoice can be made particular to school copy and student copy.
Reports Creation
We can generate the financial reports of the school on the month, year or week basis. Enhanced Campus Automation provides the filters and dynamic sub filters in order to modify the reports according to the payment status, amount, balance, mode of payment, of individual or group of students, etc. We can create the account statement of each individual student in the school on the basis of class, date or year. All the generated reports can be viewed, exported to Excel, CVS files and can be printed in numerous formats.
Multi level Security
Enhanced Campus Automation System can keep up numerous records whose access can be constrained to only users with access rights and permissions. Account sections in the database can't be altered or adjusted as the system doesn't permit the administrator to change records of delicate data with respect to class' finances.
Extra characteristics
School Fee management software allows student's parents to login their dashboard in order to make the fees payment via the incorporated payment gateways. Auto-produced mass SMSs alerts can be sent for reminding late charges, fine or discounts.You can likewise keep up independent records for hostel fees, transport fees, mess fees, and so on.
Fee management software comprises all these multipurpose features. The fee management module along with other incorporated modules makes ECAS the best school management software in IT solutions industry.